We Delivered Flowers to Janet Jackson and Katt Williams. Here's The Story.
Field of Flowers recently had the honor of designing and delivering four very special floral arrangements from and to the legendary pop star, Janet Jackson, and comedian/actor Katt Williams. It was an awesome experience for our team of floral designers to create unique arrangements that would be appreciated by such iconic figures.(No doubt our designers were humming "Rhythm Nation" and "Miss You Much" or googling the latest performance of Williams while putting the pieces together.)
Both artists were performing at the Hard Rock Hollywood Hotel at the same time.We first received an order from Jackson to be delivered to Williams, with her best wishes — and then Williams responded in kind.
What did we create for such distinguished clients? Below is a photo of one of the arrangements.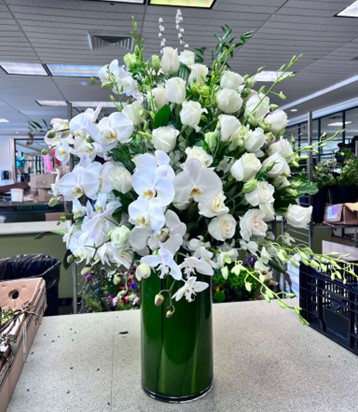 Are you interested in something similar (but perhaps not as big, for a slightly smaller budget)? One of our best sellers is the Petite Beauty, appropriate for the "rock star" in your life.
Top Florist from Miami to Palm Beach
It's not uncommon for us to receive special order requests from and for high-profile clients. (We'll write about Beyonce's flowers in a future post.) The challenge, of course, is to create an arrangement that's beautiful and unique, but also meets the wants of our client.Of course, it helps that we're quick…the first order needed to be delivered within two hours from when it was placed…and that we deliver every day just about anywhere in South Florida.